So here is my situation: I have a side hustle that earns USD every month. I also have a new-found interest in investing in US stocks and ETFs. Putting two and two together, I started to wonder if I can invest my side hustle USD earning straight into the US stock market, which would save me conversion fees.
Turns out, it's very possible! I use Interactive Broker to purchase my stock shares and ETFs (which from here on will be simplified as IBKR). Since I already earn USD in my Wise account (f.k.a TransferWise), depositing USD balance to IBKR is not only more efficient, it also incurs a mere 51 cents flat fee per transaction. Yes! cents!
If you're keen to find out how you can do the same, I've written a step-by-step.
ℹ️ I'll be using USD as an example throughout this post, but the same steps can be applied to pretty much any other currency supported by Wise and IBKR. You just might incur different fees.
First things first
Make sure you have a Wise account. If you don't have a Wise account, feel free to create one using my referral link ;) Using my link will waive the fee on your first few transactions! transferwise.com/i/melissap172
And if you don't have an IBKR account, feel free to use my affiliate link too! They are the best broker with lowest fees. If you use my link, we'll both get a feww IBKR stock. Here is my IBKR referral link: ibkr.com/referral/melissa468
You'll need to be logged in to both your IBKR and Wise accounts, so have them both ready.
Now, let's get into the "how":
1. Create a deposit notification in IBKR
First step is actually the exact same as funding IBKR from any other bank account. You must first notify IBKR that you intend to deposit a balance to your IBKR account by creating a deposit notification.
In IBKR, Go to "Transfer & Pay" and select "Transfer Funds". From there, select "Make a Deposit". Under "Select a new deposit method", select the currency you want to transfer from your Wise account. I selected USD since that's what I have in my Wise account.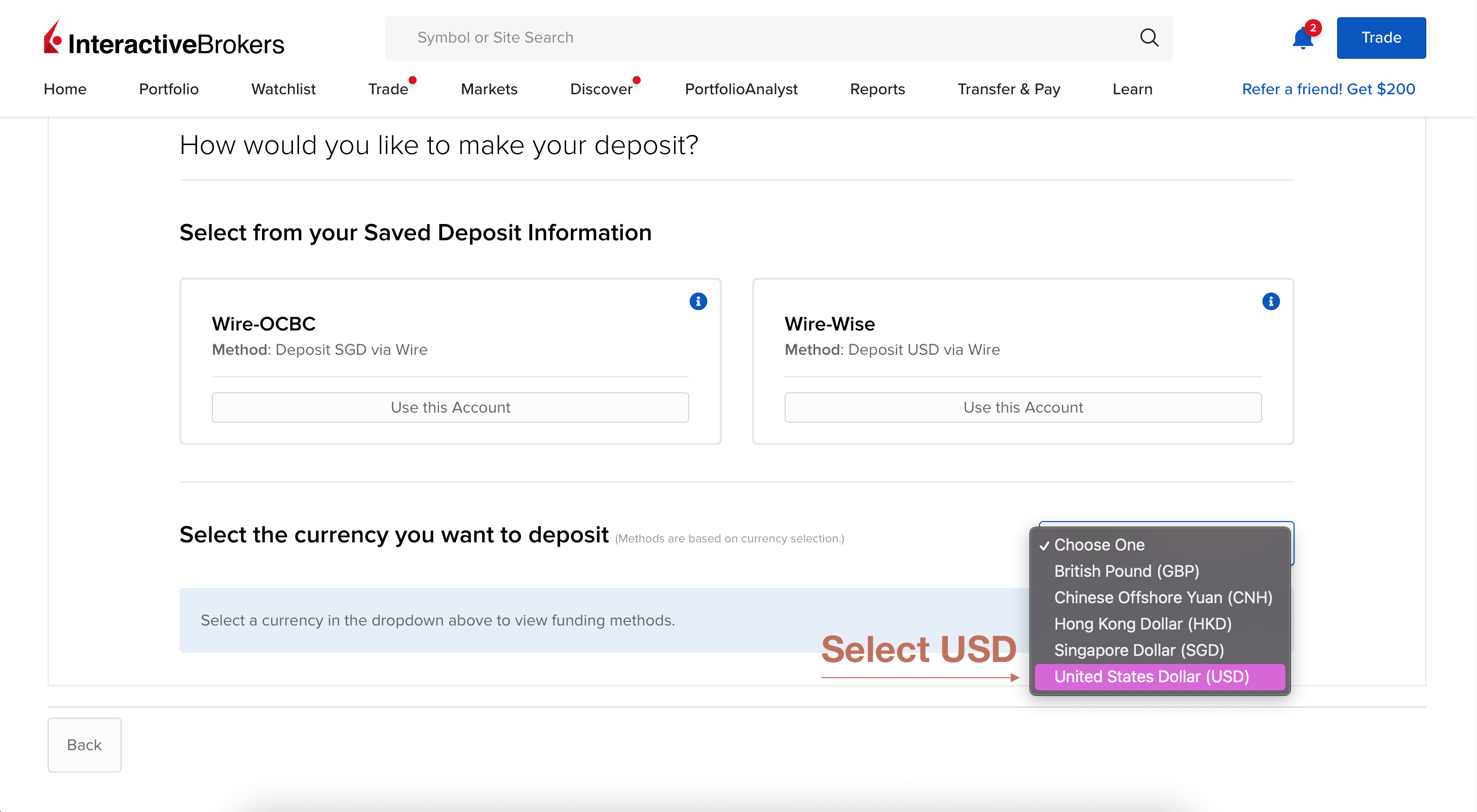 You'll soon see a button labeled "Get Instructions". Click this button.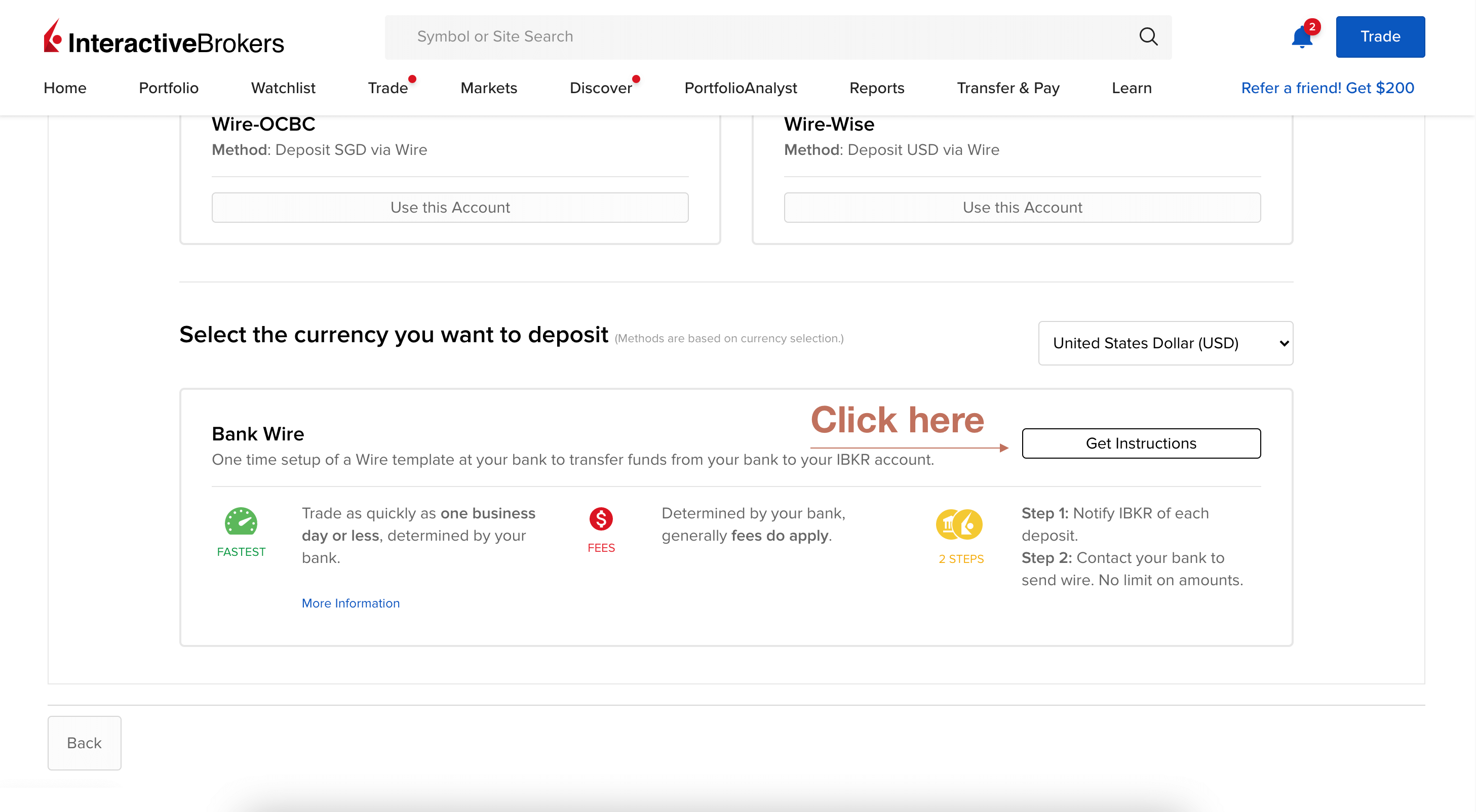 Next, you'll need your Wise Account Number, which you can get by going to your Wise account - then clicking into "Account" > "Account Details", and selecting "US Dollar" or whatever other currency you're transferring. This will give you the bank account number for that currency. For USD, there will be a 16 digit account number there - copy this number.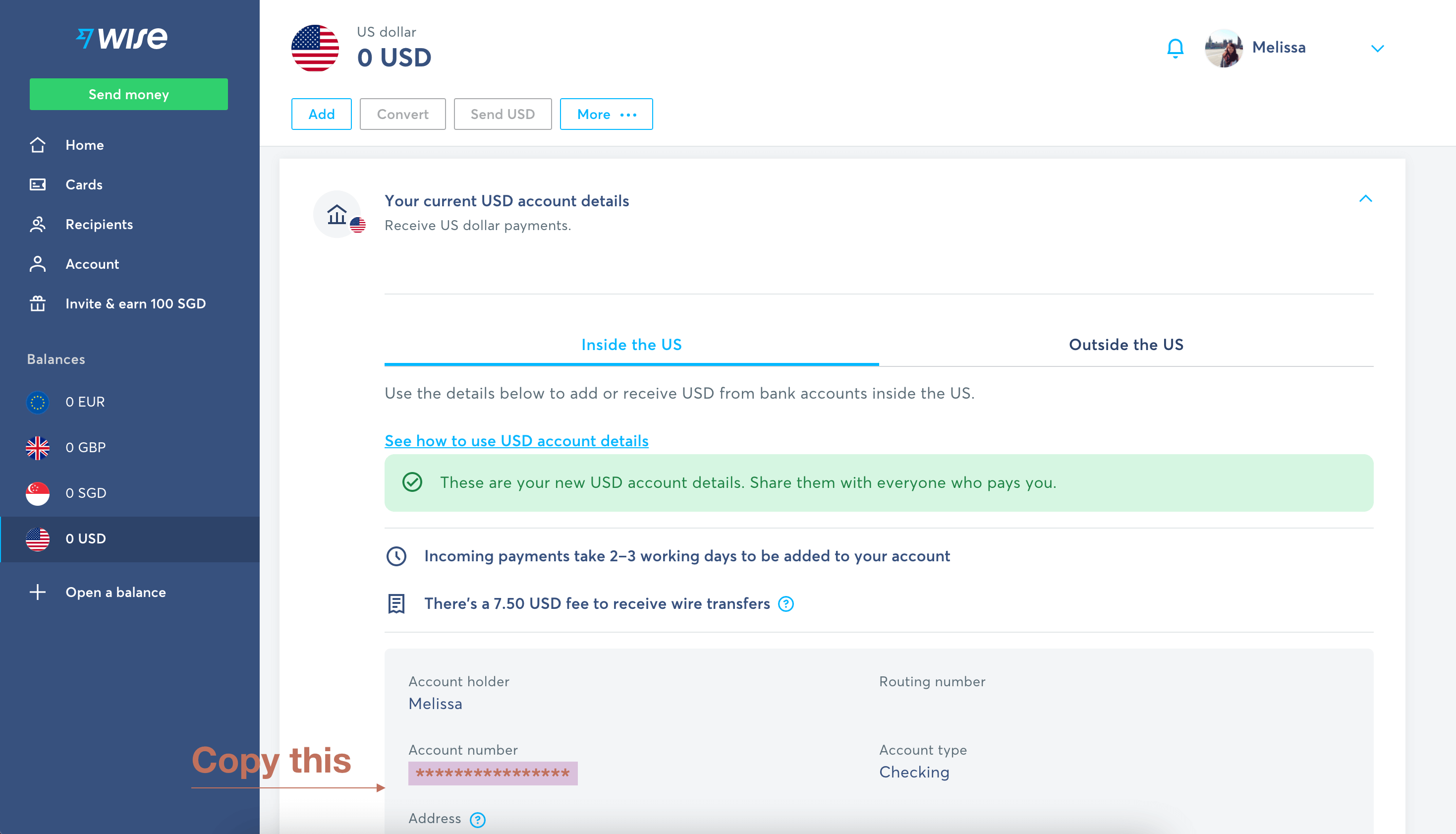 Then go back to IBKR. On the next screen, put "Wise" as the "Sending Institution" and paste your 16 digit Wise Account number in the "Account Number" field.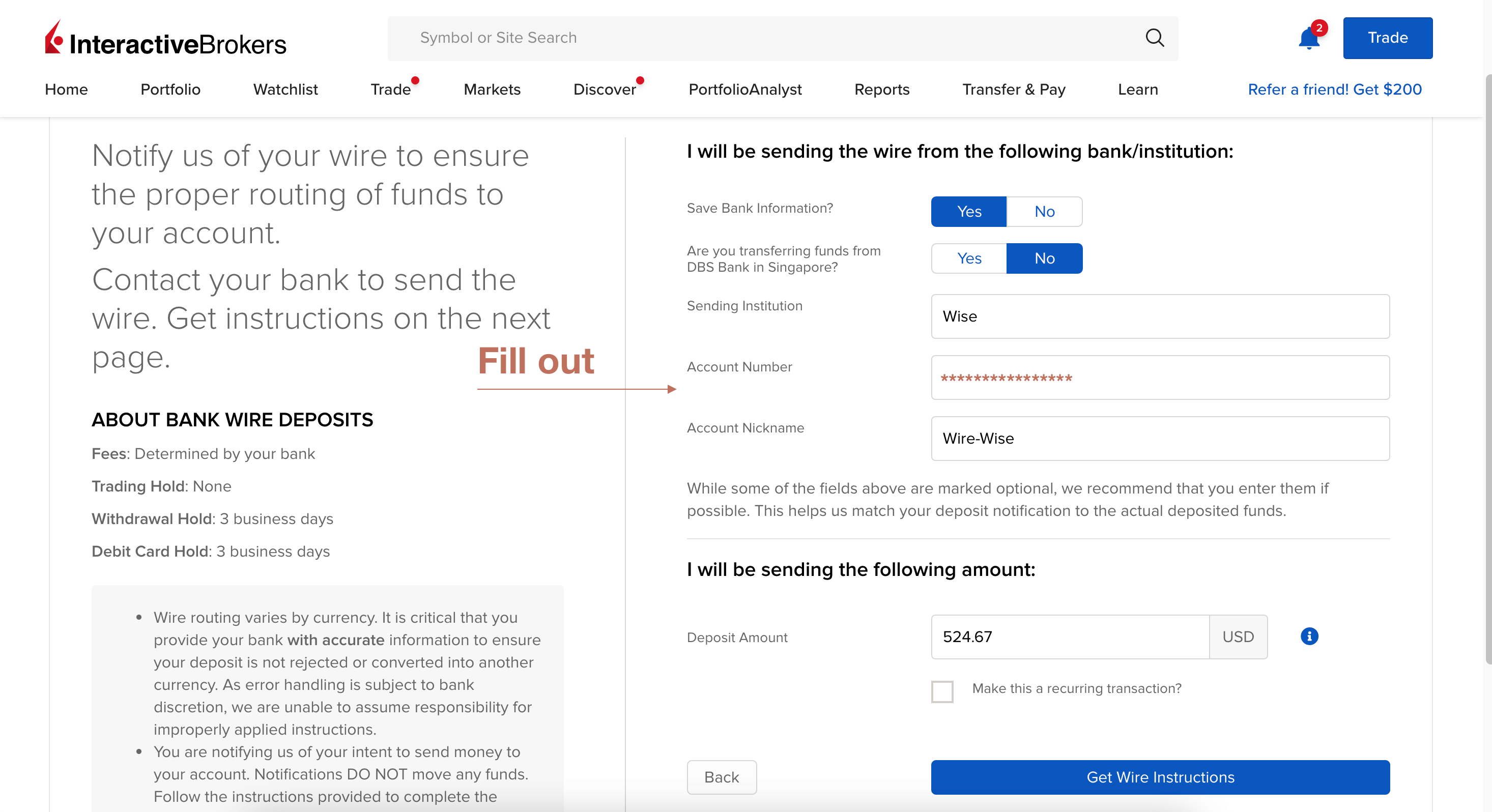 IBKR will autogenerate an account nickname for you, but feel free to change this to anything you want. It will serve as a template name that you can use next time you want to create deposit notification from the same Wise account in the future.
Once all the information has been filled, click the "Get Wire Instruction" button. You should then be presented with the IBKR bank information like this: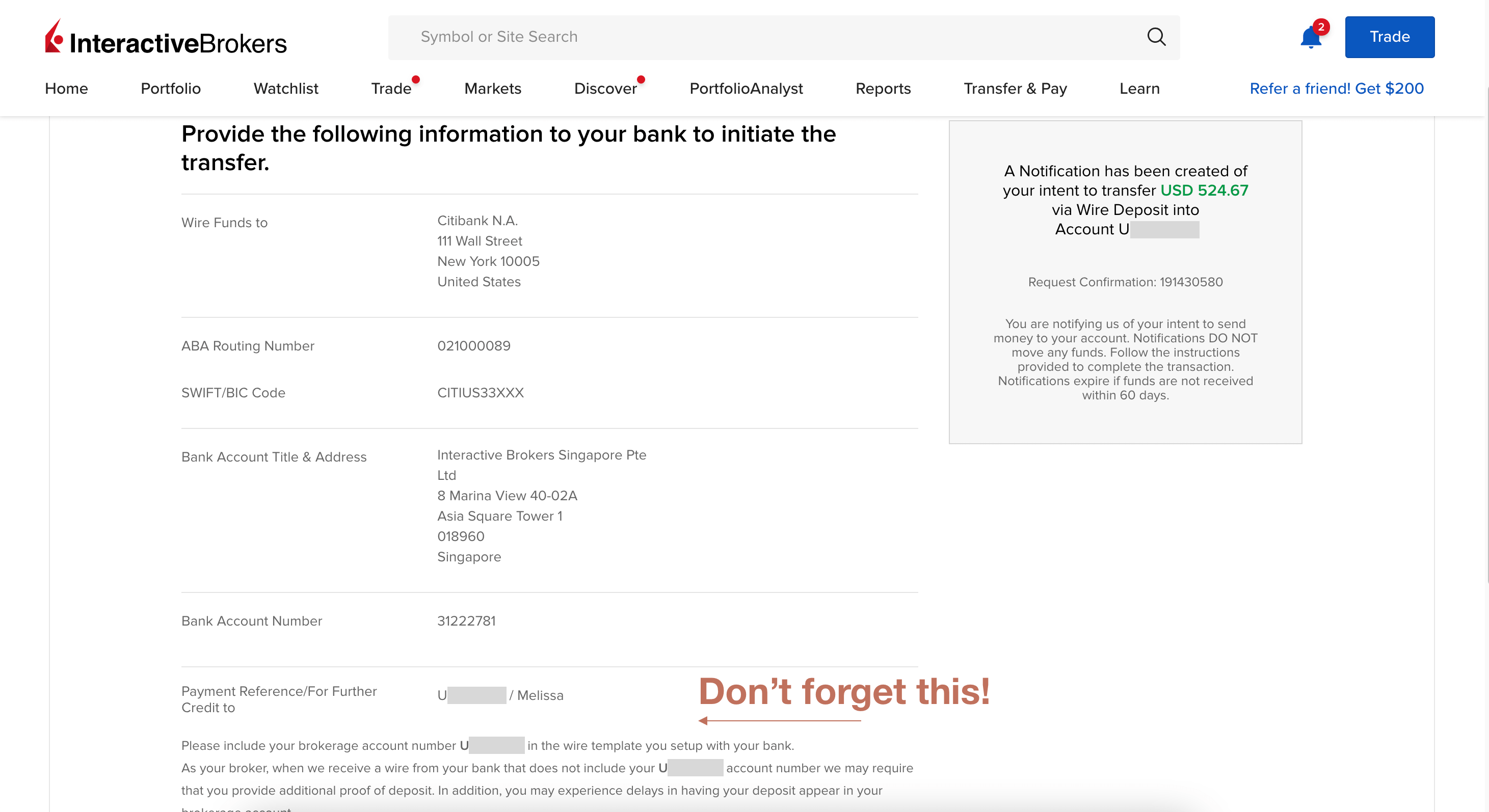 Note the small text at the bottom of the instructions? This is why it's important to note your IBKR account number (Starts with "U") which you will need for the next step.
And you're done creating the deposit notification!
However, it's important to understand that a deposit notification is NOT a fund transfer, so you're not quite done yet. A deposit notification simply tells IBKR that you intend to deposit funds to IBKR, so that it can look out and match the transfer to your account later when they have received fund.
Anyway, keep this IBKR window open or save the info somewhere, and go to your Wise account.
2. Add IBKR as recipient in Wise
In order to send the fund from your Wise account, Wise needs information on where to send it to. So next step, you will be adding IBKR bank info to you Wise account. Let's do that!
On your Wise account, go to Recepients and click "Add a Receipient". A modal should pop up. Specify the currency as whatever currency you're transferring. In my case I selected USD and that the recipient type is a Business. I left the email empty as it is not a compulsory field.
Next, input the information as you've received from IBKR in the previous step. It should be straightforward - the only thing to note here is that for transferring USD, Wise is asking for ACH routing number while IBKR gave us ABA routing number. After searching on the internet, I discovered that you can just use ABA routing number as ACH routing number. Also input here the account number given by IBKR and specify the account type as "Checking".
It should now look something like this: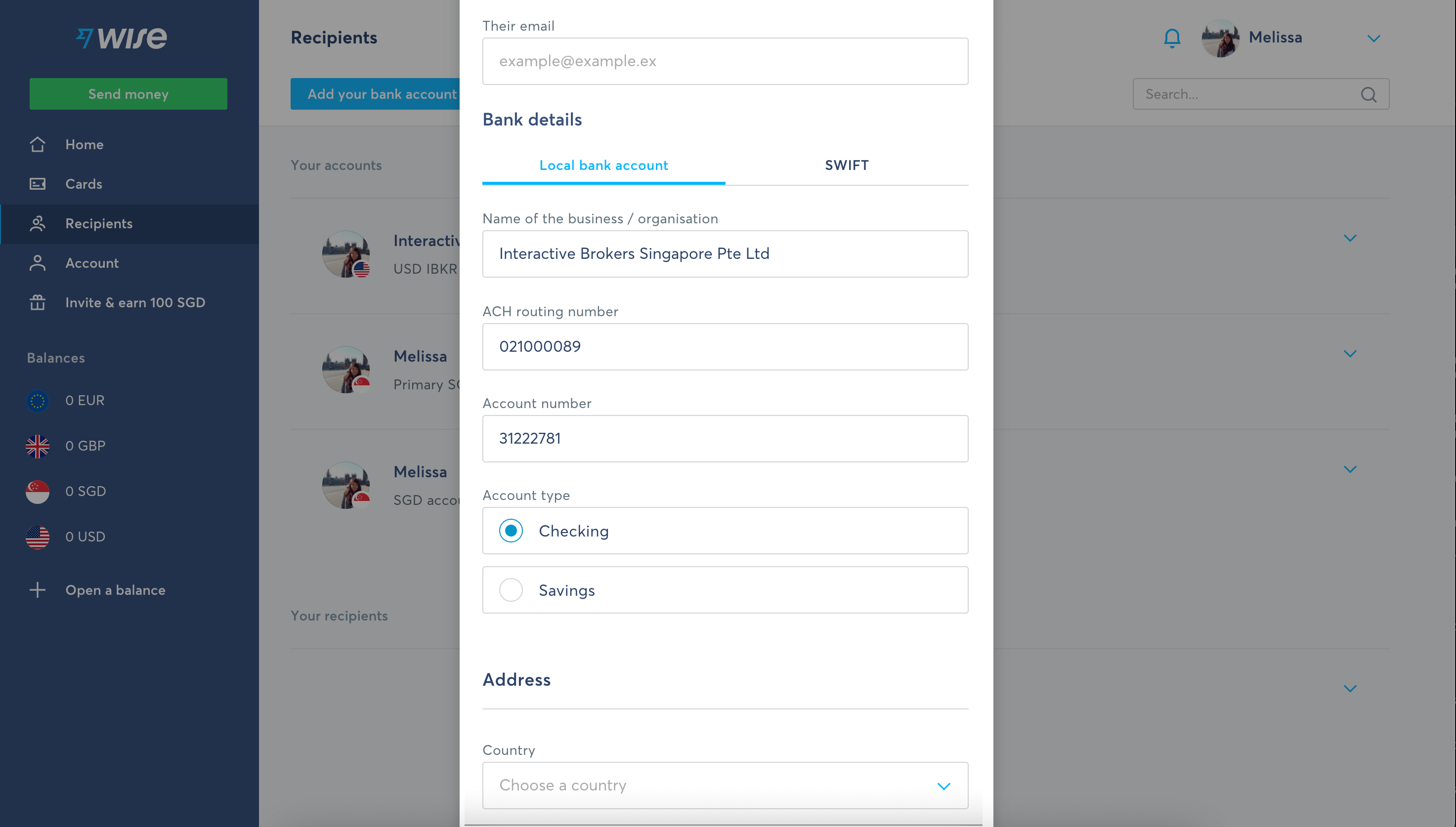 Lastly, complete the recipient name and address as given by IBKR. IBKR gave me a bank in New York, but their Title & Address is in Singapore. I put in the Singapore address in Wise and the transfer still came through, but I know other people who put in the New York address and it worked for them too. So it seems the address does not matter much as long as you have the right routing and account number!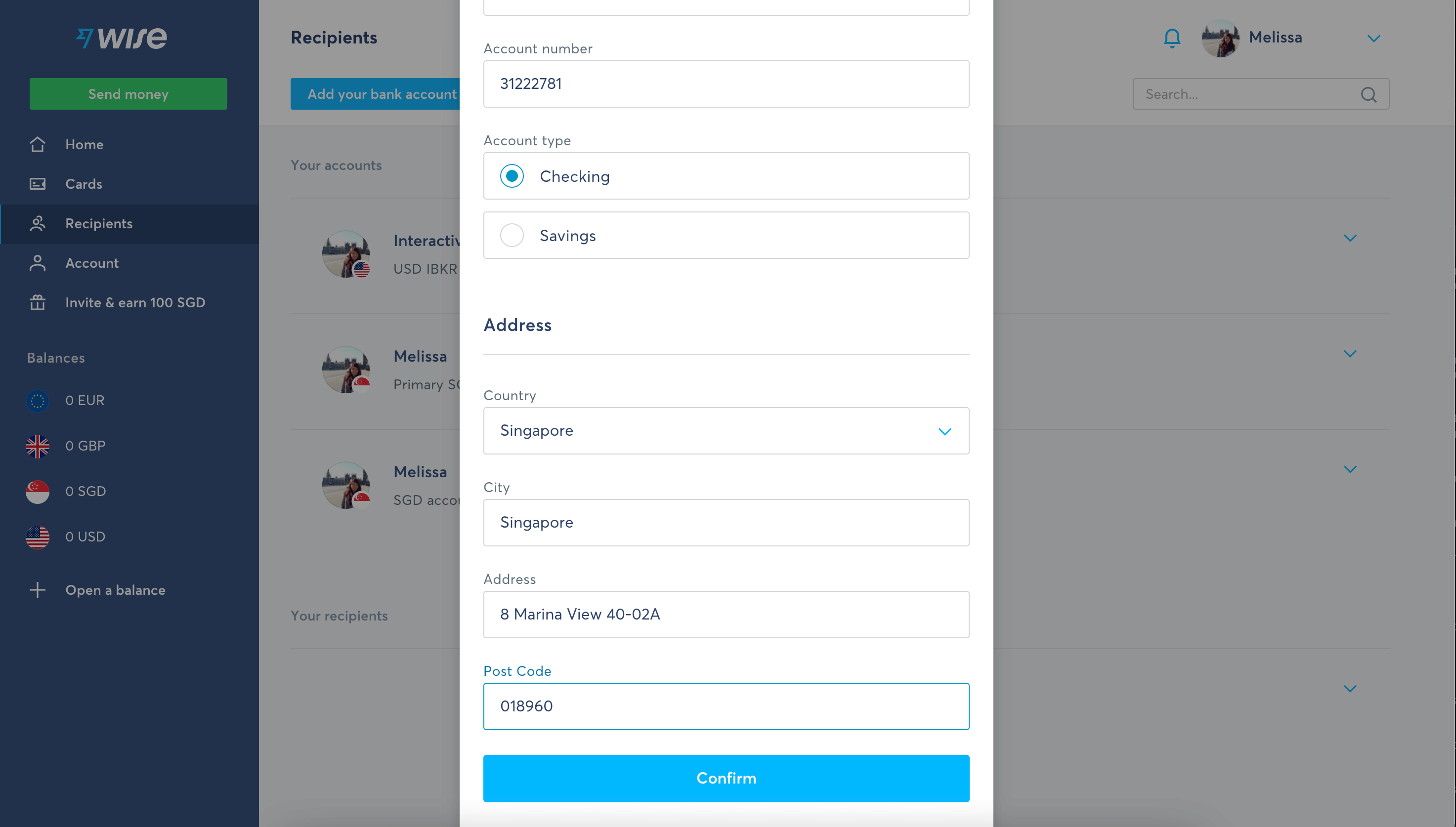 Click "Confirm", and you're all set.
3. Initiate the transfer from Wise
Finally we've reached the most crucial step: the actual transfer of your balance from Wise to IBKR.
Go to your Wise account and click "Send Money" in the sidebar on the left. You will then be presented with an option of where you want to send your money from. For the purpose of this post, I'll assume you already have a the balance in the right currency you want to transfer on your Wise account. Otherwise, simply convert any balance you have or do a bank transfer to Wise.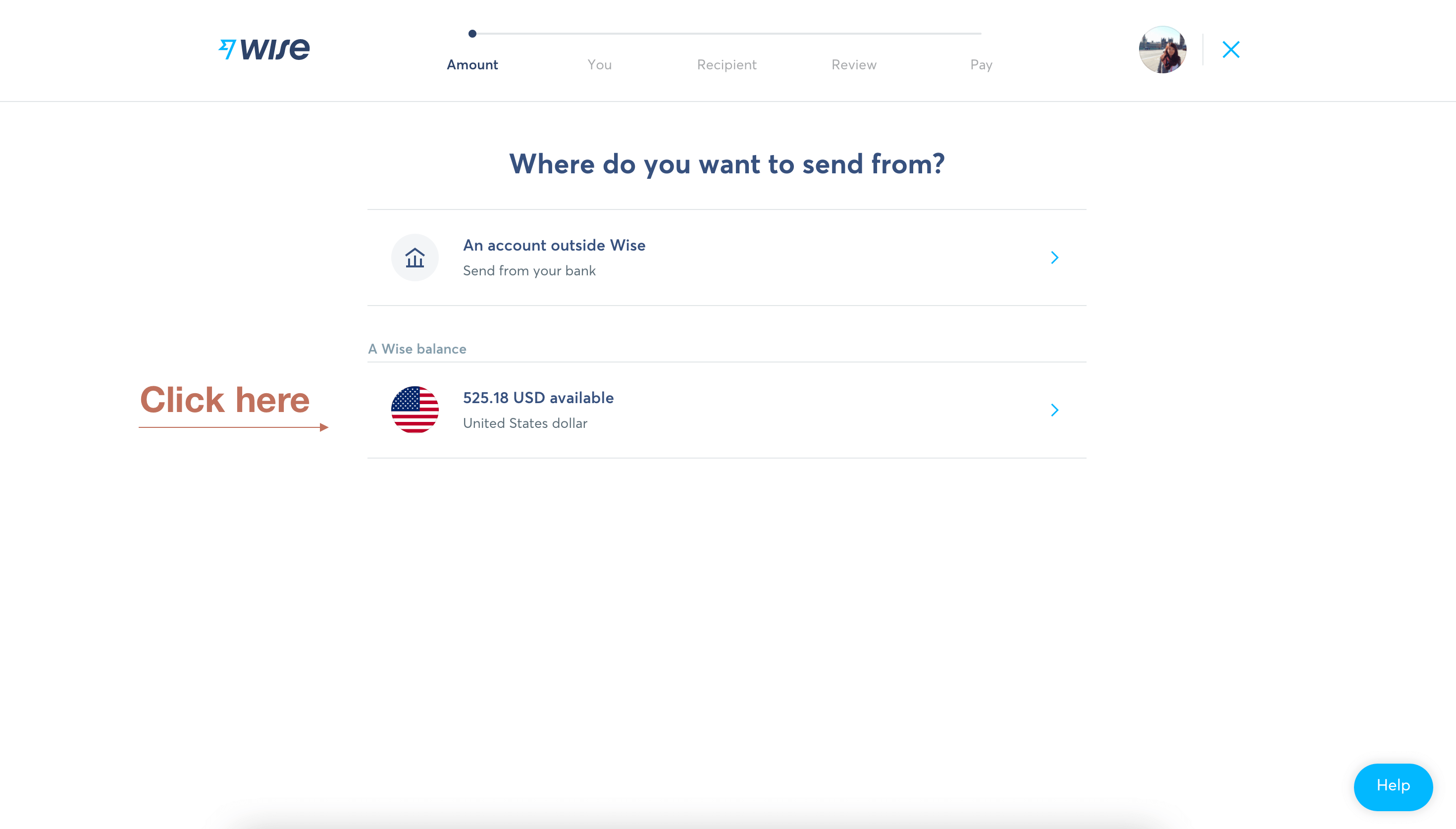 Click on "Same Currency" tab, and make sure to select the option that indicates you are sending using your existing balance, which if it's USD then it will use the ACH method. Input the amount you want to transfer to IBKR.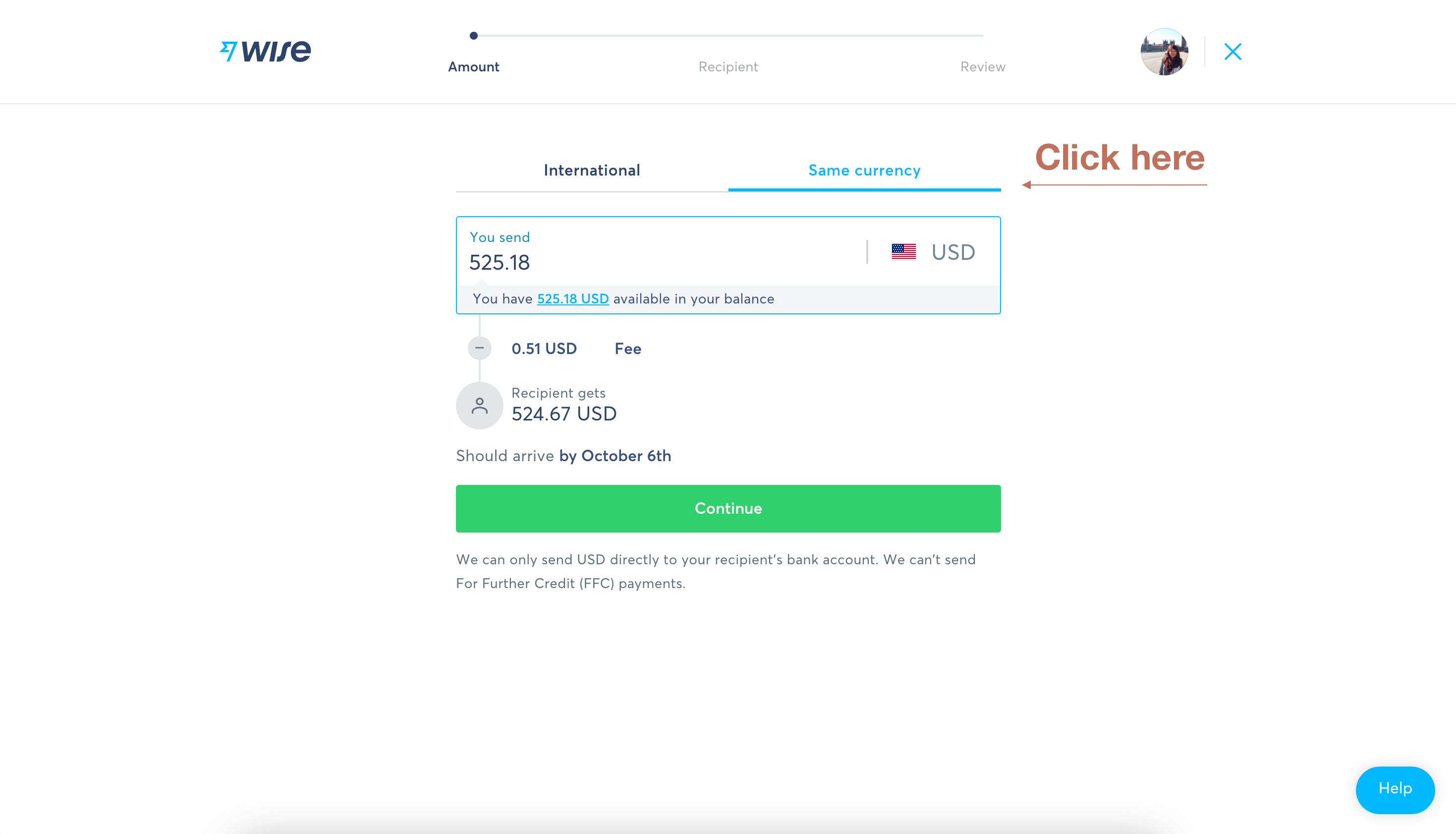 Note that Wise will deduct the 51 cents fee and tell you how much the recipient (in this case IBKR) will get. Make sure this number matches the Deposit notification you created in Step 1. However, if you didn't anticipate the fee and the number doesn't match, that's ok too! Just input whatever you want to transfer to IBKR here. You can edit the deposit notification in IBKR later at Step 4.
Next, select the IBKR Account you've saved as recipient on Step 2: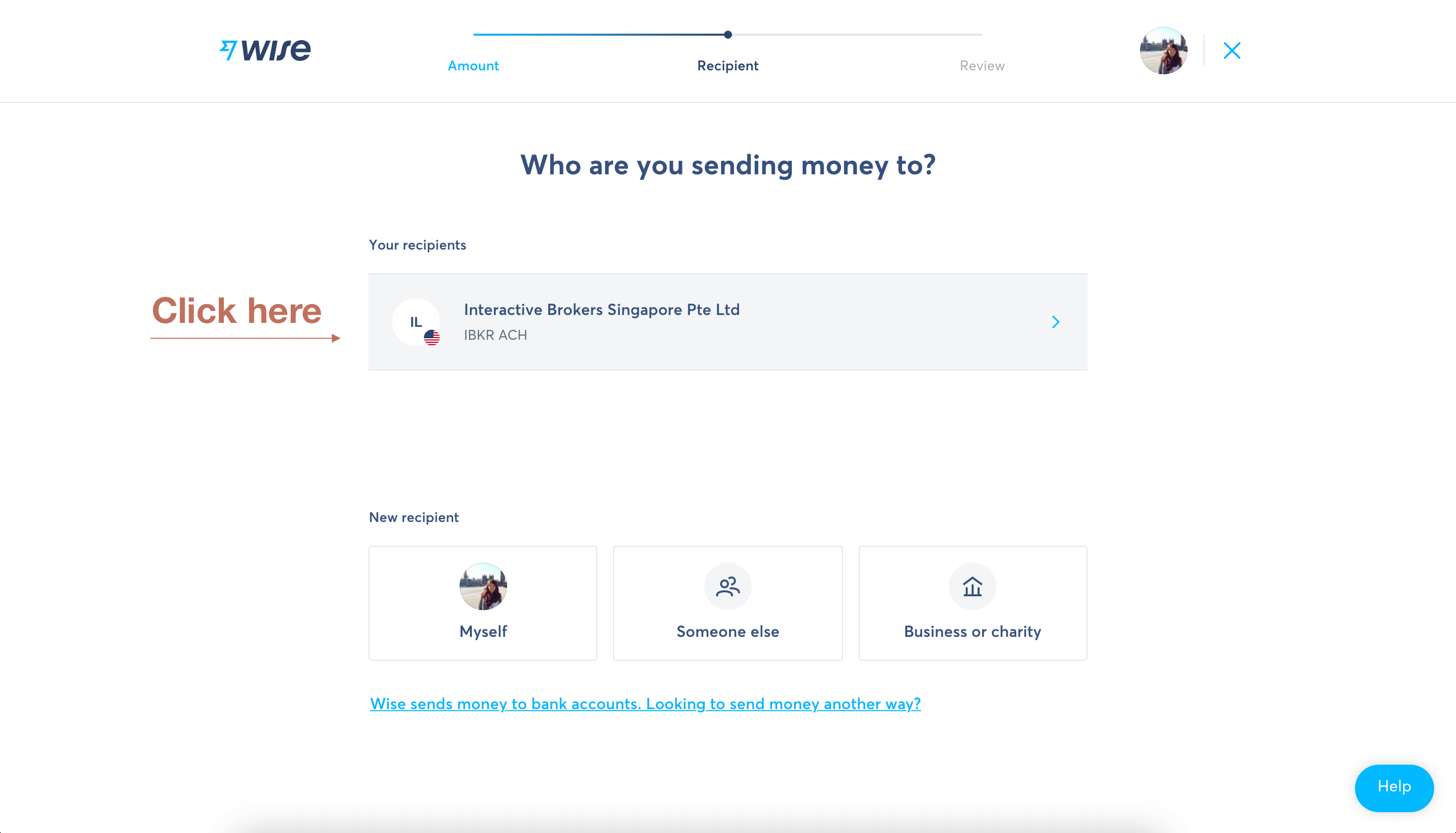 Lastly, Review your transaction. This is where your IBKR account number comes in handy - make sure to input your IBKR account number (Starts with "U") in the reference field. Do NOT forget this, or your fund might take awhile to come through as IBKR would not know which account to attribute the fund to. The IBKR account number you put in the reference field should be something like "U12345678".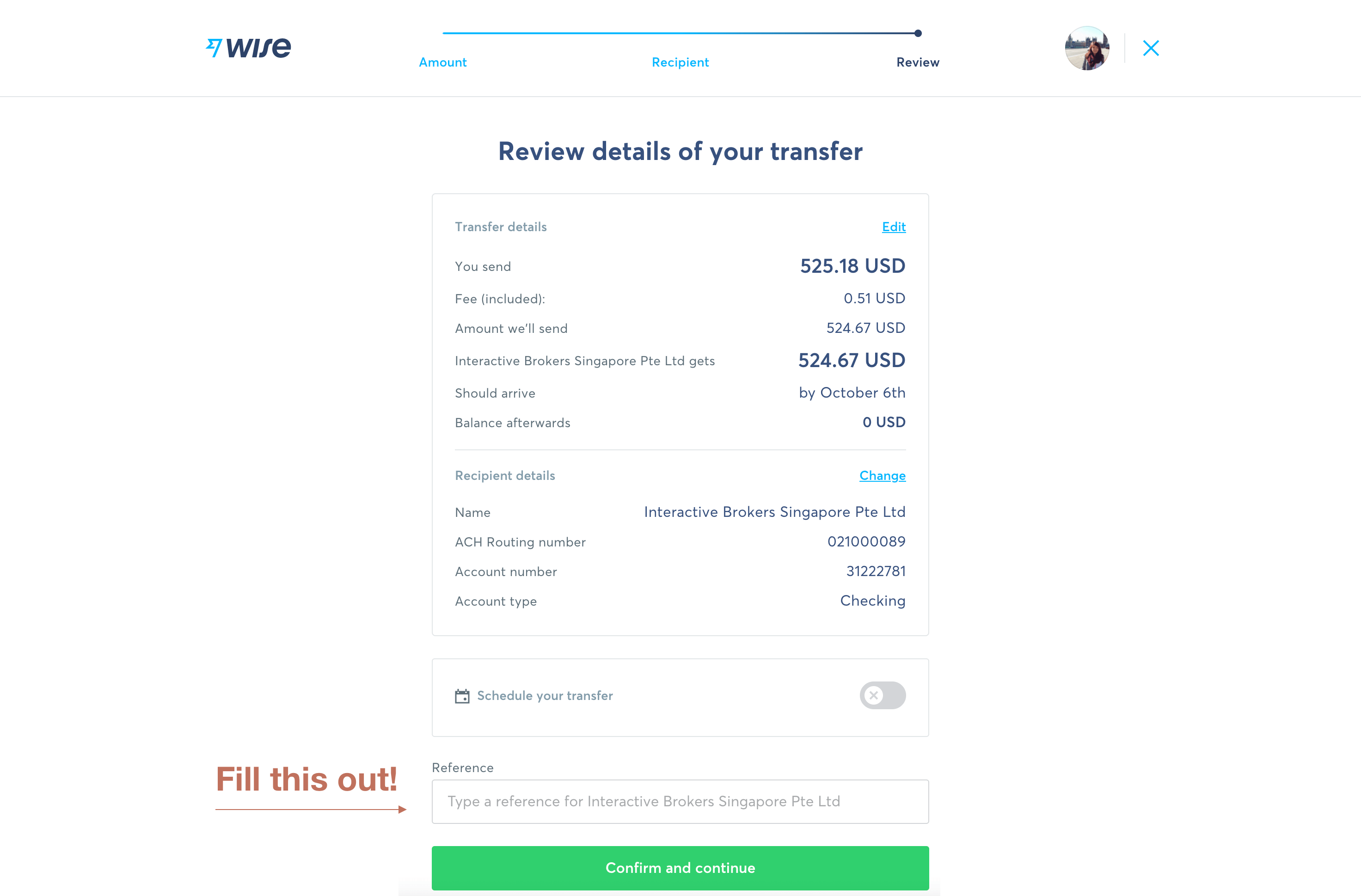 Then click "Confirm & Continue". You'll be directed to a notification screen from Wise to let you know when the funds should be received by IBKR's bank. For example, I sent mine on 5 October and the notification says the bank should receive it by 6 October.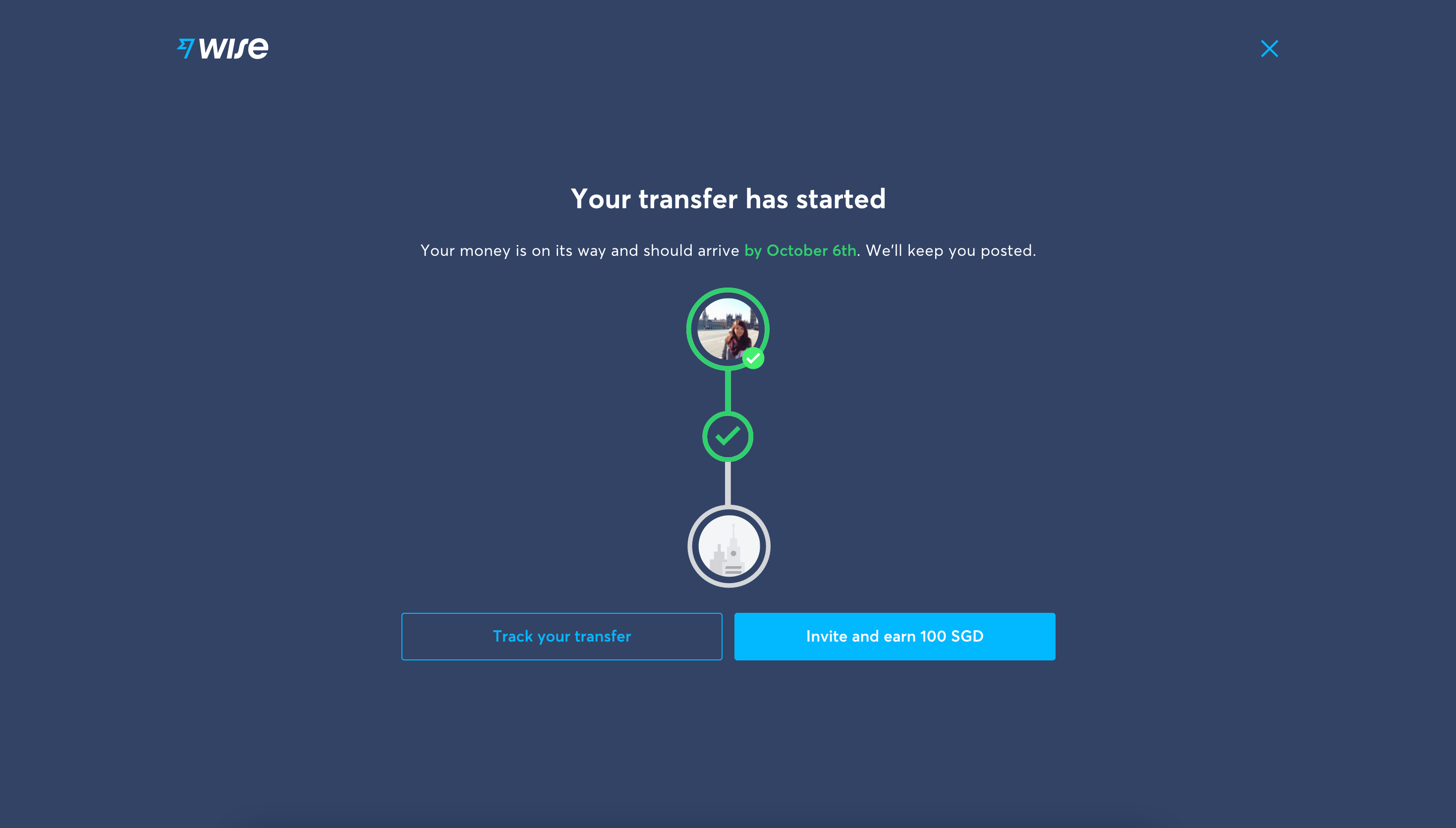 If you realize you've made a mistake, you'll have some time to cancel the transfer and have the fund be returned to your Wise instantaneously. However, if the money has been sent, you can no longer cancel the transfer.
4. Make any necessary changes to your IBKR Deposit Notice
You'll then be redirected to the homepage of your Wise account, with details of the transaction.
From here, you could provide IBKR with more information on the deposit notification you've created on Step 1. Namely, you now have information of the transaction reference number and the correct amount sent.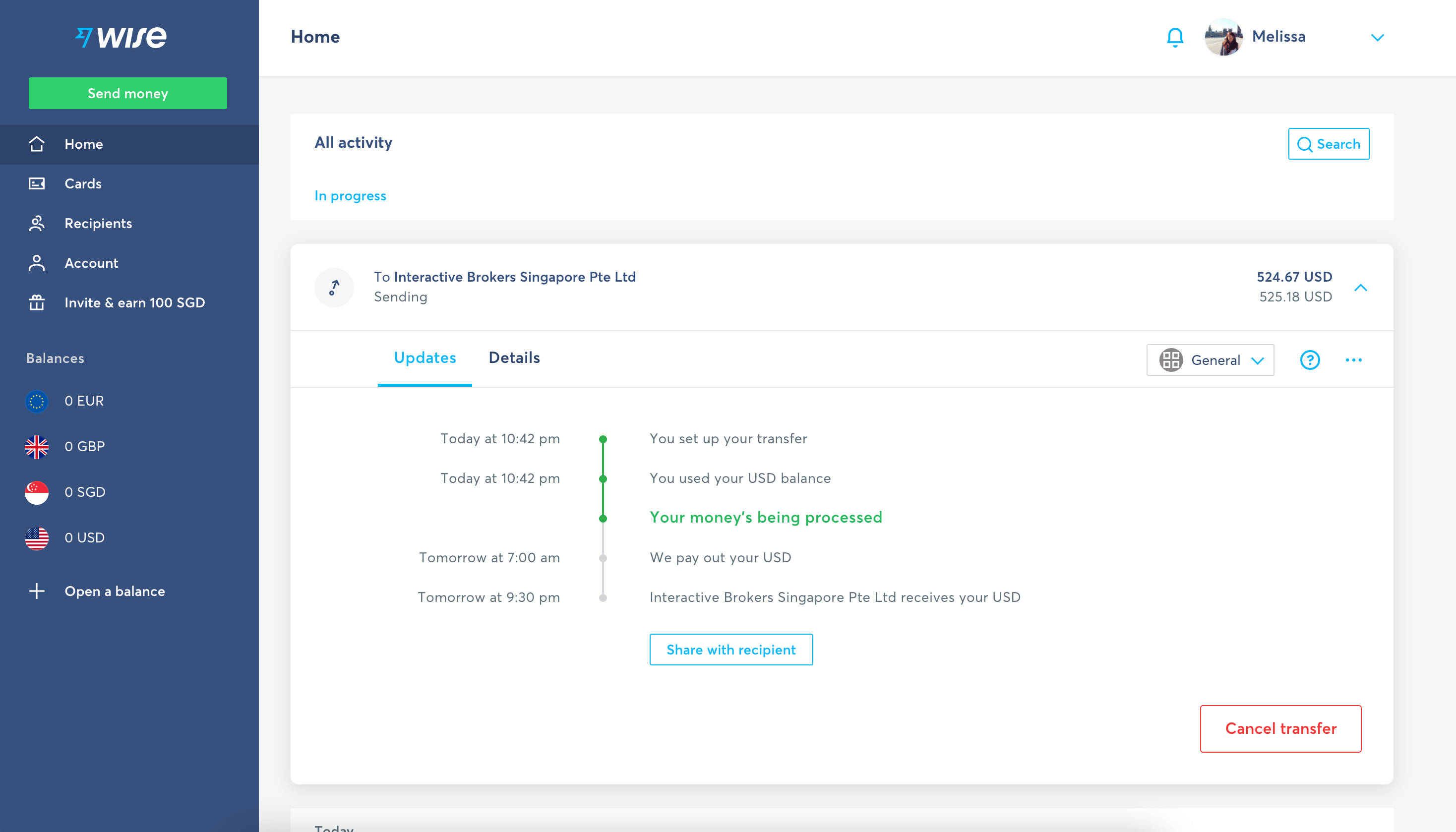 To update your IBKR deposit notice, simply go to "Transfer & Pay" again, then click "Transaction Status & History". You should see the deposit notice you've created on Step 1. Click on that deposit notice and modify it to the correct information.
As I said before, there are two things you might want to update IBKR deposit notification with:
First, you could get the reference number for the transaction from the details tab of the Wise transaction, and update your IBKR deposit notice with this transaction reference if you wish. It will give IBKR more information about your deposit, which will further ensure that your transfer will be credited correctly to your IBKR account.
Secondly, you might have forgotten that Wise charges a small amount of 51 cents for transfering USD. If the USD amount you've sent on Step 3 does not match the amount you provided in Step 1, it's also good idea to update the deposit notification with the correct amount sent. In the screenshot above, the correct amount sent was 524.67 USD.
5. Receive your money in IBKR!
You should be getting your money in IBKR soon, right? … apparently not. The day after I sent the money from Wise, I received a notification in IBKR saying the funds have been received, but it will take 7 more days for it to be credited to my IBKR account.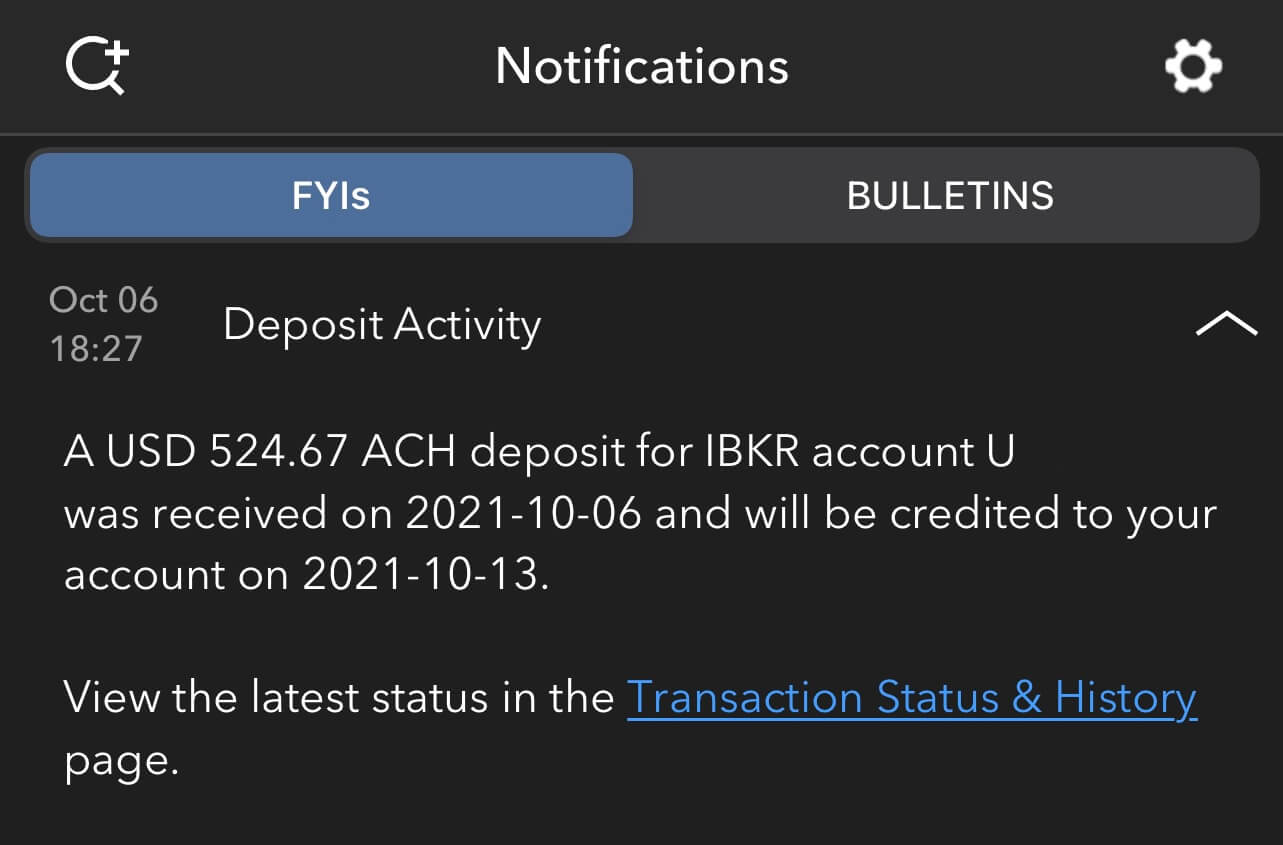 … What?!
Well, I guess you can't have cake and eat it too. The long processing time was apparently because IBKR implements a 4 business day hold on ACH transfers to protect themselves from potential fund reversal. In my case, the estimate was more than 4 business days - IBKR doesn't include the day the money was received and the day the money will be credited into the 4 day estimate. 🤦‍♀️
So in short, the total time it takes for USD to be deposited to IBKR from Wise using ACH is… a staggering 8 days. Now, if I had hit a US public holiday, the time could even increase more. That's an absurdly long time, considering you can transfer SGD from your bank account and have it be recognized in IBKR within the next hour.
This of course could be expedited if I had used a wire transfer - which could come instantly. However, US banks charges a fee to receive a USD wire payment and the amount differs per bank, so you'll need to take that into consideration.
In conclusion, I suppose this method still works well if you already have a USD balance on your Wise account, or if you are moving large amount of funds which can benefit from Wise's amazing forex rate and you don't mind the wait.
As for me, it's not perfect but it works. I'll keep using the ACH method because I'd like my dismal USD earning to accumulate in IBKR rather than in Wise or get converted to SGD in my bank account.
Update (Nov 3, 2021): Can't believe this happened, but my USD transfer from Wise just got credited into my IBKR in less than one day! Here is how it went down: I sent my monthly earning last night at around 11PM. At 1AM, I received a notification from IBKR asking for proof of payment. I was a little annoyed, since I double checked my transfer on Wise and indeed I had indicated my IBKR account correctly, but I submitted the proof anyway. Today, I happened to log in to IBKR and… surprise, surprise - the USD balance had been credited and is available on my IBKR account. Which means, it took about 20 hours for the transfer to come through, a vast improvement from the previous 8-10 days. I'm not sure if this is a glitch but I am a happy camper!
And… that's all folks! Hope this was useful for you!